AspectFrame
---
Object Hierarchy:
Description:
The AspectFrame is useful when you want pack a widget so that it can resize but always retains the same aspect ratio.
For instance, one might be drawing a small preview of a larger image. AspectFrame derives from Frame, so it can draw a label and a frame around the child. The frame will be "shrink-wrapped" to the size of the child.
CSS nodes
GtkAspectFrame uses a CSS node with name frame.
Example: AspectFrame: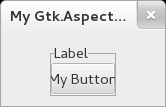 public

 

class

 Application : Gtk.Window {
	

public

 Application () {
		

// Prepare Gtk.Window:


		

this

.title = 

"My Gtk.AspectFrame"

;
		

this

.window_position = Gtk.WindowPosition.CENTER;
		

this

.destroy.connect (Gtk.main_quit);
		

this

.set_default_size (

200

, 

200

);
		

this

.set_border_width (

10

);

		

// The AspectFrame:


		Gtk.AspectFrame frame = 

new

 Gtk.AspectFrame (

"Label"

, 

0.5f

, 

0.5f

, 

2.0f

, 

false

);
		

this

.add (frame);

		

// AspectFrame content:


		Gtk.Button button = 

new

 Gtk.Button.with_label (

"My Button"

);
		frame.add (button);
	}

	

public

 

static

 

int

 main (

string

[] args) {
		Gtk.init (

ref

 args);

		Application app = 

new

 Application ();
		app.show_all ();
		Gtk.main ();
		

return

 

0

;
	}
}
valac --pkg gtk+-

3.0

 Gtk.AspectFrame.vala
Content:
Properties:
Creation methods:
Methods:
Inherited Members:
All known members inherited from class Gtk.Frame
All known members inherited from class Gtk.Bin
All known members inherited from class Gtk.Container
All known members inherited from class Gtk.Widget
All known members inherited from class GLib.Object
All known members inherited from interface Atk.Implementor
All known members inherited from interface Gtk.Buildable